It's been awhile since I coveted Currently on my blog and now is about time! With the coming of September, this means I have already been in school for a month...whaaaaaaa?! We finished our 4th week of school this past Friday and it already feels overwhelming.
Listening
We are settled in for the night after being out all day on our much needed date day. So, this means one of our three kitties is sleeping soundly between the two of us on the couch. The UFC fight was a PayPer View fight and we couldn't watch it till tonight...plus, both of us didn't really want to see it badly enough because the main card was changed when one of the fighters didn't make weight and had to drop out. I may be speaking Japanese to some out there at this point...but we enjoy it! :-)
Loving
I've said this a ton to so many friends and on Facebook in the last few weeks. But it really is nice to be a teacher since we get to start all over each school year. This means we can take the time to figure out what to change, improve on, or keep the same each summer.
Thinking
I posted this on Facebook yesterday...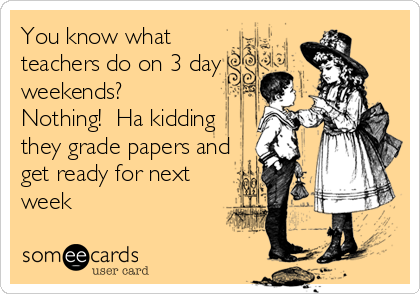 Sure I could do some swimming or barbecuing tomorrow...but I have a HUGE to-do list of things I haven't been able to get done in the last couple weeks. In fact, my hubby came to my classroom with me today (on a Sunday) to help me scan and put away about 50-60 new library books that have been sitting at the back of my classroom since the week before school started. Sigh. This is the life we lead.
Wanting
So speaking of which, wouldn't it be nice to have a 3-day weekend every week? How many of us say this every time we have a 3-day weekend though.
Needing
Only educators could really understand the enormity of how hard it is to readjust to life with a paycheck again. The first couple months are always a time to play catch up. That is all I really have to say about that. Know what I mean?
3 Trips
I've been lucky to do a lot of traveling, when I was younger, so my list probably looks different than most. On the other hand, it was really hard to pick just 3 places because I was bit by the travel bug a long long long time ago. Out of the 10 countries I've visited in Europe, I'd love to go back to every single one of them. But I didn't get to visit Spain on my two trips to Europe in my 20s, so that is a place I definitely want to go some day. My hubby, the pitmaster, has been to Austin, Texas a couple times and there are so many cool places I want to be able to go...including several of the famous BBQ spots like Franklin's. Enough said there. I have been to France, but didn't really enjoy Paris at all. But I would absolutely love to go to the Riviera to hit up the awesome beaches and scenery.
Join up with Farley and a ton of other teachers for a Currently linky party here.