I can't help but come back here on to my blog and post about the love affair I continue to have with
Fabletics
.
HERE
is last month's (and my first outfit) post showing the lovely Failli set.
A couple days before the first of the month, Fabletics posted some sneak peeks of new outfits/collections over on Twitter. Once I saw the camo leggings, I was hooked...and I don't even like camo!!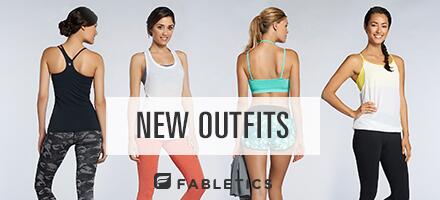 My outfit for the month of June had 3 pieces...Lima Capri in black camo, Aventura tank in black, and the Sevan bra in pink grapefruit.
Seconde
VIP Price for all 3 pieces - $59.95
It is super sleek looking and yet fashionable. I couldn't resist the black on black with the peach/coral colored bra top underneath, so I actually grabbed the exact look shown in my boutique instead of playing with the colors.
Here's what is super special about the capris:
Maximum compression/support - I fully agree with this! I felt contained yet I was able to comfortably move and stretch in my yoga practice this morning.
Four-way stretch for comfort and movement - The material wasn't pulling at the seams, so this is a definite truth
Mid-rise
Smooth chafe-resistant design
Convenient Hidden pocket (in the front)
Moisture-Release for dryness - I also fully agree! It definitely got warm in class today, but unlike other capris I own, I didn't feel stifled. They were perfect!
Would it be weird to just wear these to every single workout I do?! Okay, I'm kidding, but I am a HUGE fan of their capris now. I've never owned a pair that felt so soft, comfortable, stretchy, yet compressing (is that even a word) at the same time. When I walked in to my gym (or just stood in front of my mirror before leaving the house) I honestly felt like I was stylin'! I don't leave the house on a daily basis without making sure what I'm wearing is doing nothing but flattering me and making me feel good. Sometimes, my off-brand athletic clothes don't make me feel like that and I HATE it. But this...this outfit made me feel like a rock star! Did I mention how in love I am yet? I mean come on! When you catch several people turning to look and doing double takes to look at your capris, that must mean they stand out. That totally happened in the yoga studio today.
My tank was just as great too:
Relaxed fit
Length is below hips (but slightly longer in back) - perfect for hitting right above the spot to make it flattering on pear-shaped gals like myself
Curved Hem for a slimming effect - so very true!!
Easy, breezy racerback style
Soft viscose blend
Sexy dropped arm hole - I hate it when tanks are cutting into or close to my underarms because it is so constricting and my sweat gets all over the place, so I loved the feel of the arm holes!
I feel like I will always say this about
Fabletics
items, but this tank was super duper soft! It was that perfect thickness to give coverage yet allowed breathing room when it got warmer so it certainly didn't add to the heat at all! I loved the way it moved with me as we did side stretches...the relaxed fit was perfect for yoga. I really do want one in every color now!
I mentioned the Sevan bra in my first outfit post, but it came with this outfit as well:
Soft, seamless, chafe-resistant design
Heavier-weight fabric to support and cover
Four-way stretch for comfort and movement
Super neat strap design!
I would recommend this sports bra for light exercise like yoga or pilates. Not only is it very comfortable, but it supported me well through all the bending over and moving side to side. The strap design is unique and I love how stylish it is. The color of the pink grapefruit is akin to my favorite spring/summer color of coral or peach too. I can't wait to try out some of their other sport bra styles!
If you'd like to check out the
Fabletics
site for yourself to see what kind of stylish and comfortable outfits they can put together for you, you'll notice you can either join as a VIP or buy items at their regular prices. I myself am a VIP and was reeled in right away by the awesome deal they have for newbies! It is not one of those annoying monthly subscriptions either because their product is beyond worth it in so many ways.
Complete 2-3 piece outfits starting at $49.95 and up to 40% off retail
20% off items individually (in case you don't want to buy the full outfits or in addition to your monthly outfit)
Free shipping on orders over $49.95
Reward points towards free outfits when you refer friends and review your pieces
Super easy returns and exchanges (I can attest to this as I had to exchange for a smaller size with my first outfit...it was painless and very easy)
Personalized picks according to your Fit Quiz (types of workouts, body style, wants, needs, etc.)
If you don't want to buy anything at the start of a new month, all you have to do is pass by the 5th. They send out reminders via email, Facebook, and Twitter. I myself put a reminder in my iPhone calendar just in case. You can earn your reward points by passing on the love of Fabletics, so I'd love for you to try it out for your first outfit at $29.95 by clicking my
referral link
. And please share what you get, because I'd love to know! So what are you waiting for?!
All items were paid for by myself and not provided by the company. The opinions expressed here are my own and totally and utterly true. I am in love!