Makeup is one of those things that make me feel good and are part of my daily routine. I feel naked without it and only a very very select few have seen me without it. That being said, I am a creature of habit and routine, so I'm pretty attached to certain brands. But!...I am not a snob when it comes to drugstore makeup at all. Drugstore makeup is like generic brands of food at the grocery store. Most of the time, these drugstore gems I'm going to show off are even better than many of the expensive items I have tried...because let's get real, my other love is Sephora!
I wanted to take pictures of swatches of these products...but time got away from me today and it was dark out before I even thought to do so. (I'll try to come back later and post them).
One of my top 3 favorite YouTube beauty gurus,
MakeupbyTiffanyD
, did a video (see below) and blog post about her drugstore gems a couple weeks ago and I wanted to share out mine in case someone else doesn't know about them.
Revlon Colorstay Foundation:
I have melasma and so I prefer a full coverage foundation. This one is my holy grail because it is drugstore and covers my skin imperfections better than any expensive foundation I've tried (Clinique and Makeup For Ever). I prefer the dry to normal skin version even though I have oily skin because it doesn't dry out the way their normal to oily version does. There are so many shades in this line as well. At the moment, I am using two shades and mixing them together since the summer has darkened my skin slightly. I apply this with my Beauty Blender and it lasts all day long, even in the humid and scorching hot weather here in the desert.
$9.99 at Target
Oily skin? This stuff is seriously your dream for setting powder! When I was hunting for something that wasn't as expensive as the awesome setting powders that Makeup For Ever makes, I found out about Milk of Magnesia and how it helps control oil. But then I read up on how bad it is to put on your skin. So, I was desperate to find something that would do the trick...safely. I did some research (yes, I did...I'm not going to buy new makeup if I don't know how well it works) and rice powder actually absorbs oil. That is why it was used in Japan by Geishas. So I quickly did a search for brands that make rice powder and stumbled upon Palladio's product. Wait until you see the price!! I've had it for months and months now and it's not even half empty. (the lid doesn't stay on well, so I use a rubber band when traveling and just toss the included sponge)
$5.49 at Sally's Beauty (or Ulta)
I've tried several of these products from Sephora and paid nice amounts of cash...one being Benefit's Erase Paste, which creased like crazy and didn't last throughout the day either. Finally, I found this product after seeing so many of my favorite YT gurus using it and recommending it. Maybelline makes several versions of this, so make sure you buy the right one (they have a brightener, which I'll be trying when mine runs out and one in a white bottle that doesn't work the same). It has a thin consistency, yet works like a charm! It lasts all day and I only notice very very slight creasing, which is easily fixable by tapping my finger under my eye. Then, it's gone like that. The sponge tip makes it super easy to apply and I recently began using a Sonia Kashuk brush to tap it into my undereye area (I'll post it soon in my July favorites).
$7.99 at Target
Jordana FabuBrow Eyebrow Pencil:
I can't tell you how many eyebrow pencils I have tried from the drugstore! They just go too fast to pay for a nicer brand at Sephora. Some I have tried from the drugstore have been too waxy, too dark, not pigmented enough, etc. But I finally found my holy grail! Jordana is a sister brand to Milani and can only be found at Walgreens or online. It is perfect in every way and very inexpensive...in fact, you'll find several of my drugstore gems are from Jordana and there is a reason why.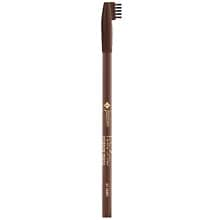 $2.99 at Walgreens
Wet 'n' Wild Color Icon Eyeshadow Pallettes:
There is no other drugstore eyeshadow like Wet 'n' Wild!! Not only are they inexpensive, but they are also buttery (so similar to the expensive Urban Decay shadows...love my Naked palette) and are extremely pigmented. They have a fantastic selection as well. I have a hard time choosing between some of the 3-pan and 8-pan palettes that I own. But I can say my favorite 8-pan is Petal Pusher (all purple shades, seen below) and my favorite 3-pan is Silent Treatment. You cannot go wrong with any of the Color Icon shadows and even if they do go wrong, since you didn't break the bank to buy them, it's not a big deal! Quite a few of their eyeshadows are perfect dupes for many MAC and Urban Decay shades as well.
$4.99 at Target
Jordana FabuLiner Liquid Liner:
I told you I was a HUGE Jordana fan! This by far is my favorite product by them and it works as well if not better than many of those liquid liners (felt tip marker style) found at Sephora or other drugstore brands. The price is extremely right and it is insanely easy to use. One thing you will find with this eyeliner is it is pigmented and very black. I also have it in brown, but it comes out as a dark brown almost black. I tend to pull that one out in the fall and winter when I wear more gold or bronze eye looks. You will notice it seems to start drying out a little, but if you buy a 2nd liner and use that one while you put the old one away...when you come back to the old one, it comes back to life. I have had this drying out issue with other liquid liners I have used as well, so this isn't a cheap Jordana issue. I am OBSESSED with FabuLiner and I think you should be too.
$1.99 at Walgreens
Jordana Best Lash Extreme Volumizing Mascara:
Mascara is another makeup item I have tried repeatedly with different brands, types, hypes, etc. For awhile, I was one of those Covergirl Lash Blast fans and still like my Covergirl Lash Perfection (gray tube) for my bottom lashes. I even used Benefit's They're Real and Laura Mercier Full Blown Lash...all for a painful $20+ pricetag. After going through tests of some other drugstore brands and hypes, I stumbled upon this one by Jordana, on a whim. I will NEVER NEVER NEVER turn back from this one! It is not as well made, so it lacks that bit that wipes off the excess formula as you pull the brush out. You just have to be careful when you are applying and be light-handed or it will be extremely clumpy and create spider lashes. I hate that! But I also found after about a month, the formula thickened and I do not have to be as careful. I am willing to look past this, since I paid such a small price for it. The stuff adds crazy volume and even length to my lashes in a natural way. This is my holy grail!!
$2.99 at Walgreens
Wet 'n' Wild Color Icon Blush:
Alongside Jordana, Wet 'n' Wild definitely holds my drugstore makeup heart. Their blushes are just as fantastic as their eyeshadows They are very pigmented, long-lasting, and inexpensive! My favorite out of the 3 they make is most definitely Pearlescent Pink. I do own all of them though. Not only is it a subtle color that adds a lovely flush to my cheeks, but it is an exact dupe of the famous and well-loved NARS Orgasm blush. Unfortunately, I've never been able to splurge for that blush because I don't want to...especially since I have a blush that is just as great with that same pink with gold shimmer! Um...heller!!
$2.99 at Target
Wet 'n' Wild Bronzer in Ticket to Brazil:
After using the popular NYC Sunny bronzer for over a year, I switched because it wasn't pigmented enough for me. I am so glad I switched to Wet 'n' Wild's Ticket to Brazil! It is way more pigmented and goes on smoother as well. I have to be careful and not get too heavy-handed with it. The compact is gigantic and will last me a long time. It does have a slight shimmer to it, which I never like in bronzers, but it is subtle and I don't even notice it when I have it on.
$3.99 at Walgreens or Target
Maybelline Vivid Lipsticks:
OMG, these are my all-time favorite lipsticks and I own 6 shades! When these first came out, I was a little afraid to rock them out in public. But they are so fun to wear and flattering, that I could care less if people stare or judge me. After buying one shade at first...Shocking Coral, I immediately bought two more...Vibrant Mandarin and On Fire Red. When I couldn't get enough of wearing those three, I grabbed up Vivid Rose...a shade I NEVER thought I'd wear. Next thing you know, I bought Hot Plum and Brazen Berry...both are purple shades. Me? Wear purple lipstick? Whaaaaaa?! Yes! I love every single tube of my Vivid lipsticks. They are buttery, long-wearing, smell yummy, and are oh so pigmented. Even when I scrub my lips with makeup remover, I sometimes wake up with lips that are tinted. Who also couldn't love the vivid orange lipstick tubes?
$5.54 at Target
So...those are my many drugstore gems that I love and covet. I do have many high end products I use as well (and I'll do a gems post for them too), but for the most part, I am a drugstore makeup user all the way.
What are your drugstore gems and why? Share away! Or if you are a high end makeup user, what kind of drugstore items would you like to try?