Seriously?! It's already a new month...and of course, August means going back to work and back to school. Teachers officially reported back yesterday in my district here in Arizona and our students start next Wednesday.
These last 4 days have been completely full of meetings and trainings without any time to be in my classroom at all. But I'm ready to get back in to my routine, meet my new students, and get this 2013-2014 party started. My to-do list is still forever long even though I've crossed off so many items in this last month. The life of a teacher...a never ending to-do list. Never ending.
If you are not from Arizona (or even India really) or have never lived here in the summertime, you probably don't know what monsoon season is or what it is really like. Here, when the dew point gets up to 55 degrees for 5 days straight, the monsoon season basically arrives. That means gigantic dust storms (think The Mummy)...let me help you visualize:
courtesy of The Mummy
But the dust storms here are much worse and at least another mile higher. They travel at super high speeds and knock down power lines, tear roofs off houses, split trees, and are horrible to get stuck in. We have to pull over if we are on the road or freeway...and forget running the air conditioner while you sit roasting in your 100 degree car, unless you want to get a lungful of dust (even if you have the outside air turned off).
The upside is we also have crazy rainstorms with microbursts. Remember the scene in Forrest Gump when he is describing the different kinds of rain when he was in Vietnam? Well, we tend to get the sideways rain the most. It pounds down and causes flash floods. We love it the most when we get to watch the electric storms and listen to the thunder pounding though. It happens almost nightly for about 2 months.
I got an email that I had won a copy of a T.R. Ragan book...but it is the 3rd in a series. Since I haven't read the first two books, I started reading the first one called
Abducted
. It's about a woman who was abducted by a serial killer but was his only victim to actually escape. The book takes off about 14 years or so later as she receives a mysterious note that is most likely from her abductor, who seems to have come back from the dead . It is sooooooo good! And? It was only $2.99 for Kindle! Stay tuned for my next
What I Read Wednesday
when I put up my review and a more detailed summary of it.
Like I already said, my first day of school is next Wednesday and Meet the Teacher Night is the night before. I'm hoping to have a fantastic turn-out as I have had in the past so I can meet as many of my 31 students as possible. It is always a little awkward having to meet the families for the first time because everyone, including me, get a wave of shyness. But I also love being able to meet them and get a view into what my year will be like. This year I hope to make stronger connections with the parents to improve our communication throughout the year.
I cannot wait to do my annual first day of school outfit shopping with my bestie, Beth!! We have done it the past 4 years or so. It's like being a kid again. And that's exactly what I am, a little kid at heart. This is what I bought and wore last year for my first day of school. Here's hoping I score a super cute dress from The Limited, Dillards, or Nordstrom Rack...that is my goal!!
Skirt and top from Forever 21 and my heels are from Dillard's...all bought last summer
I have been working on my to-do list for what seems like all summer long. No matter how many things I cross off, my list seems to stay just as full as it was at the beginning of the summer. Sigh.
It was hard to only include one TPT item for my Back-to-School must haves.
1) But one I'm really looking forward to using, and believe me, there are quite a few...is this awesome
bundle set
that I bought from
Teaching in Room 6
.
2) Looking forward to using this in my classroom to better help my students master their multiplication (and eventually their division) facts.
Laura Candler
is amazing and I took a free webinar a couple weeks ago. This item makes me excited to get my kids feeling confident!
3) Of course, I had to go into Pinterest to look for one of the pins on that looooooong to-do list I mentioned earlier.
This is an item
I have seen in other classrooms and keep wanting to put in mine. I think this new school year is the perfect time to do so. My class and I always seem to embrace these things, but this sign puts it out there right away and lets them know what their 5th grade journey will be like from the get-go.
I'm joining up with Oh Boy Fourth Grade's monthly linky party for the first time this month. Here's the button and a link to her Currently post in case you'd like to join up with us.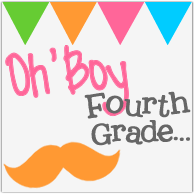 Currently Linky Party